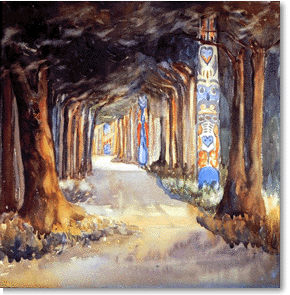 Sitka
Totem poles, donated by Tlingit and Haida chiefs to the Alaska Territorial government, were shipped in 1904 to St. Louis for display at the World's Fair. Upon their return to Sitka in 1906, the poles were re-erected in a park that was eventually dedicated as the Sitka National Monument.

"The holidays of that first year [1907] in Vancouver I spent in Alaska and are important to my work because I conceived the idea of making a collection of paintings of Indian villages and totem poles.
"We moved [from Skagway] to Sitka and there I met an artist* from New York. He had set up a studio and was painting pretty little bits which he expected to sell in New York. He had done a few bits of Indian things in the village and the totem poles. Quite pretty but not Indian at all, I felt I could do better and made several which I showed him. He said 'had I done those I would be proud'. The next summer I went to Alert Bay. I boarded with missionaries and worked very hard. My drawings were very authentic I thought." Emily Carr Journal 1937-40

*Theodore J. Richardson
The American artist to whom Carr is referring is Theodore J. Richardson who had been painting totem pole villages in southeastern Alaska for two decades prior to Carr's chance meeting with him. From an objective point of view, his watercolours are historically accurate, competent renderings of Haida and Tlingit villages.
See more paintings of Sitka
See more photographs of Sitka