Hiellen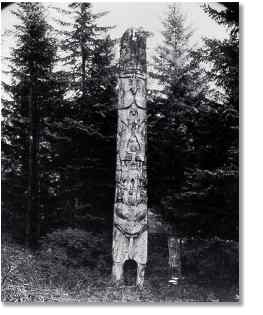 Totem and Forest celebrates the culmination of Emily Carr's artistic and emotional journey, which began in 1907 with her tentative watercolour sketch, Totem Walk at Sitka. This studio oil is based on a photograph taken in 1911 at Hiellen on Haida Gwaii.
Interviewed by C.F. Newcombe in 1902, Haida artist Charles Edenshaw recounted that this pole was created by his uncle's uncle, who succeeded Gunia as chief at Daden's village. It was carved by the artist Sqiletcànge, who belonged to a Gold Harbour town.
Two stories were recorded by Newcombe. The short version indicated the top-most grizzly bear is female; her two cubs are displayed on her elongated body. The image of male grizzly forms the entry way on the gayang, or house frontal pole.
In the end, as in the beginning, totems and trees are the means by for Emily Carr to communicate her lifelong passion for the natural and cultural landscapes of British Columbia. In Totem and Forest Carr presents both the cedar tree and the resultant form as revealed by the adze and knife of Haida carver Sqiletcànge. Together, these artists celebrate two art forms that have come to portray the spiritual essence of Canada's west coast.
See more paintings of Hiellen
See more photographs of Hiellen