Hlradgilda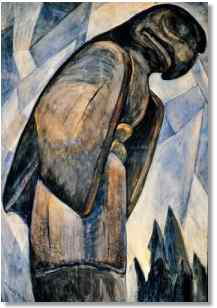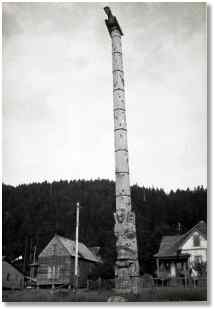 Photographs taken between 1878 and 1888 reveal the Haida community of Skidegate as an architectural wonder dominated by more than thirty huge cedar plank houses and a forest of totem poles.
Still standing in the village is a single memorial pole which was raised in 1882 with a beaver at the base and a ringed cylindrical column soaring to the sky.
The eagle which once crested the pole has since fallen. Its memory is preserved in this 1929 watercolour, depicting the capital eagle hovering against a geometric sky.
---
Maynard's 1884 photograph of Skidegate features two mortuary poles in the foreground. Carr eliminated one of them in a pencil drawing and further reduced the perspective in an associated watercolour.
Obviously she was experimenting with composition, probably considering the possibility of a final work in oil. She has eliminated the house frontal pole in both which is barely seen alongside the central shark/hawk memorial pole.
On to Gitanyow
See more paintings of Hlragilda
See more photographs of Hlragilda