Gitwangak
In order to interpret the figures in Carr's rendering of two poles at Gitwangak, it is necessary to refer to A.Y. Jackson's field sketch and contemporaneous photographs. These provide a visual guide to the Barbeau record, summarized briefly below.
"The older of the two poles is named Dog-salmon. Its figures consist of two large fish, the Dog-salmon, head downwards; and three human beings; the upper one, fish spear in hand; the second, holding on to the tail of the salmon; and the smaller one, at the bottom, being swallowed by the salmon.
"The second pole is that of On-top-sits-the-Squirrel. Its figures are: the Squirrel; a human being . . . holding the Marten in his hands; The-Eagle's-nest; the Starfish; and a human being with Starfish on his hands representing Kweenu's coat-of-arms; .... "
Barbeau 1929:138
"In 1926 Marius Barbeau went West again and arranged that Edwin Holgate and I should accompany him to the Skeena River.
". . . Holgate and I made many drawings of the totem poles around Kitwanga, where Campbell [CNR civil engineer] was straightening them up and setting them in good concrete foundations. For our purposes, we preferred the poles leaning forward or backward, and suggested to Campbell he set them that way. Campbell's comment on this was brief. 'I would do anything I could,' he said, 'to please you artists, but as an engineer I cannot put up leaning totem poles. You can make them lean any way you like in your drawings.'"
Jackson 1958:109-110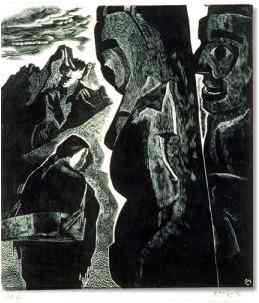 Continue on with Gitwangak section
See more paintings of Gitwangak
See more photographs of Gitwangak